Foodz Coffee was created to offer more mood, focus and concentration with the help of coffee and B vitamins, in addition to 25g of protein, 8g of fiber, coconut milk, carbohydrates in the ideal balance and all 25 vitamins and essential minerals.
Just mix it with water and your meal is ready!
Skip to product information
Flavors
Each bag contains 16 meals
12 Coffee Vanilla Bottles
Falta x unidades para poder comprar
2% off
ASSINE FOODZ PRO
3x sem juros
no cartão de crédito
Frete grátis
acima de R$300
Using the 2BAG discount coupon when purchasing 2 Foodz Bags guarantee R$99 OFF + 1 Free Foodz Shaker .
R$698
2 Foodz Bags / 32 meals
R$599
BRL 18.70 per meal
View full details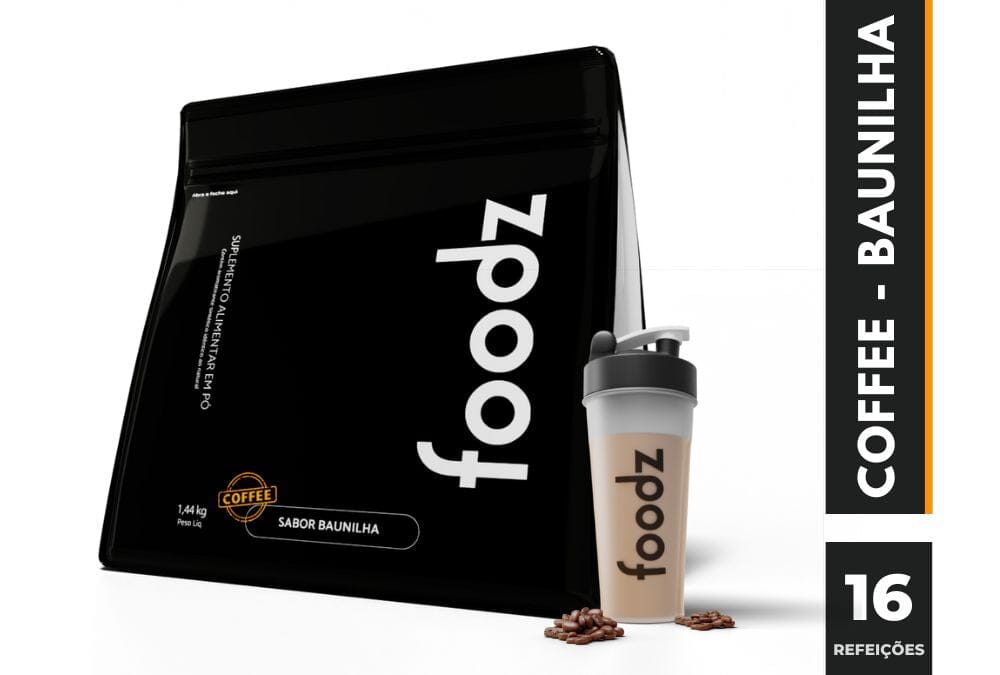 WHAT GOES IN FOODZ COFFEE?
25 vitamins and minerals
Optimum amounts of all 25 essential vitamins and minerals.
Many Proteins
25 g of protein per meal. Only good things
Coconut milk
Coconut milk boosts your energy, as well as helping to promote satiety.
Carbohydrate Absorption
The combination and amounts that we have between carbohydrate, fiber and proteins make absorption slower in the body.
fibers
Soluble and insoluble fiber, keeping you full. With prebiotics that will keep your digestive system healthy.
AND MUCH MORE...
✔ 25g of plant based protein
✔ 25 vitamins and minerals
✔ Adjust your portions with the scoop
✔ Win a Shaker when buying 2 Bags
✔ No ingredients of animal origin
Everything to give your body what it needs
Nutritious food is vital to a happy and healthy life, but we are all leading an increasingly busy life. What we need is a meal that is nutritionally complete and convenient. Foodz Coffee is all that and more!

We worked hard so that Foodz Coffee could be the perfect combination for your breakfast, offering a complete, balanced and very tasty meal.

And since nutrition always comes first at Foodz, don't worry, it's a drink with 25g of protein, fiber, carbs, fat, 25 vitamins and minerals that contains 18% to 100% of all the nutrients you need, including caffeine and B complex vitamins that will bring more focus, energy and concentration to your day.
Approved by nutritionists:
Nyvinne Reis
Nutricionist - CRN3 74714/P
Eloah Ribeiro
Nutricionist - CRN4 21102145
Luciana Picerno
Nutricionist - CRN4 20101929
100% Balanced and nutrient-rich
Are you part of the people who skip breakfast from time to time and feel a lack of mood, focus or energy during the day? Foodz Coffee is perfect for you!

Foodz Coffee was designed to bring in its composition nutrients that are essential to help our body maintain disposition, focus and concentration such as coffee and B vitamins, in addition to maintaining our proposal of being a complete meal.

Our product is regulated within the standards of the World Health Organization, Health Surveillance and Anvisa.
What's inside Foodz Coffee?
The Foodz Coffee recipe contains 25g of vegetable protein, 8g of fiber, 25 essential vitamins and minerals and carbohydrates in the ideal balance for your breakfast or lunch. Everything to offer our body what it needs to stay healthy in the rush of everyday life.

Each meal provides the perfect amount of protein with a complete amino acid profile, an adequate amount of the welcome fats from coconut milk, fiber to support your digestive system and keep you feeling full, and all of this combination of nutrients makes carbohydrates a must. slower absorption into your body and can help maintain your energy.
Aminograma
Foodz V3
| | Foodz V3 |
| --- | --- |
| Aminoácidos | Quantidade (mg) por porção (90g) |
| Leucina (BCAA) | 1670 mg |
| Isoleucina (BCAA) | 920 mg |
| Valina (BCAA) | 1010 mg |
| Triptofano | 170 mg |
| Treonina | 760 mg |
| Lisina | 1470 mg |
| Fenilalanina | 1090 mg |
| Metionina | 170 mg |
| Ácido glutâmico | 3350 mg |
| Arginina | 1620 mg |
| Cisteína + cistina | 180 mg |
| Tirosina | 730 mg |
| Histidina | 470 mg |
| Prolina | 780 mg |
| Ácido Aspártico | 2450 mg |
| Serina | 1060 mg |
| Glicina | 790 mg |
| Alanina | 860 mg |
FOODZ COFFEE FOR ALL MOMENTS
Breakfast on the bus
To help you not skip breakfast and start the day with more energy.
Breakfast during training
To help you not skip breakfast and train with more energy.
Lunch at work
To give you more focus on those days full of meetings at work in person or at home office.
Anywhere
Foodz Coffee is always with you. Put it in your purse or backpack and take it wherever you want.
GOOD FOR YOU AND THE PLANET.
Plant Based is better for the planet
The food industry is responsible for 26% of all man-made greenhouse gas emissions.

Our meals are plant based and this means that the carbon footprint of Foodz products is lower.
Packaging for the planet
Did you know that our bottles are biodegradable and take up to 5 years to decompose even if they are discarded incorrectly? A normal pet bottle takes an average of 450 years.

We participate in the eureciclo environmental compensation program. The eurecycle seal shows that Foodz sends part of its post-consumer packaging to recycling.
Minimizing food waste
This minimization is done with your help!

On our side, we plan production very carefully so that we can make the most of all resources and use 100% of the raw materials without waste, and you also avoid waste when you drink your Foodz. In addition, our products have a 12-month shelf life while unopened, which means it takes longer for something to be discarded. 
HAVE A QUESTION THAT HAS NOT BEEN ANSWERED YET?
What do you mean by "Complete Meal"?

A combination of 25g of plant-based protein, slow-absorbing carbohydrates, healthy fats from coconut milk and an assortment of 25 essential vitamins and minerals that our bodies cannot produce and must get through our diet. Foodz products can be classified as a "complete meal" or "complete nutrition" because they contain all 29 essential nutrients.
How much caffeine is in Foodz Coffee Vanilla?

The efficiency of caffeine in improving physical and cognitive performance has already been proven. It increases alertness, helping to maintain focus and energy, whether physical or mental.

In the recipe for Foodz Coffee Vanilla we have the equivalent of 2 cups of ready-to-drink coffee (150ml), which is equivalent to approximately 60mg of caffeine.
What is Discovery Box and the bag? What flavors are available?

Our Discovery Box is made up of 12 bottles (1 Passion Fruit Mousse, 1 Coffee Vanilla, 2 Pro Strawberry, 2 Pro Vanilla, 2 Cookies N' Cream, 2 Chocolate and 2 Strawberry), which are equivalent to 12 meals, each of which R $27. The value of the box is R$324.90. Currently, Foodz has six wonderful flavors: Chocolate 🍫, Strawberry 🍓, Cookies N' Cream 🍪, Coffee Vanilla ☕ and Passion Fruit Mousse ☀️.

The Bag is a larger portion of Foodz that is sent in an economical 1.44 kg package, with a unique flavor of Foodz powder, comes with a doser and prepares up to 16 meals for R$21.80, and each one costs R$349, 00.
What meals can the bottle replace? Can I take more than 1 a day/can I live on it?

Although Foodz can replace any meal, it is not intended to replace all meals. If you're just starting out, try gradually incorporating Foodz into a balanced diet. As with any dietary or health change, we recommend talking to your doctor or nutritionist to determine if Foodz is right for your needs. Foodz can help you reach your nutrition goals over the course of a day or week. Consider adding Foodz to your diet to ensure you're getting the nutrition you need to be healthy.
What is the shelf life and how to store the product? How long can it stay open and be consumed?

Unopened Foodz Coffee can be stored at room temperature with a shelf life of up to one year. Although most users choose to refrigerate their Foodz before enjoying it, this is not necessary. Heat should not cause Foodz to spoil, however if temperatures are above 35 degrees the vitamins and nutrients may start to break down over time. Therefore, after opening if stored correctly as described above, we recommend that you consume your Foodz PRO within 30 days. Once prepared, consumption should be immediate.
How many ml and how many calories is each bottle?
Is it a shake?

We are a healthy and plant-based meal for your busy days, therefore, Foodz was developed to provide from 18% to 100% of all the nutrients you need throughout your day! Instead of a shake, we prefer to see Foodz as a complete meal inside a bottle.
How do I prepare my Foodz Coffee?

Preparing your Foodz Coffee is very easy!

If you have the bottle in hand, just add 400ml of ice water and stir for 20 seconds. Ready!

If you opted for the Foodz Bag, add 2 scoops of Foodz Coffee to your shaker, 400ml of cold water and stir for 20 seconds.

Ready! Now just enjoy
Pregnant can take?

We draw attention to pregnant women, because of vitamin A, which in high doses can pose a risk to the fetus. In these cases, it is important to follow up with a nutrition professional to insert Foodz into your diet.
Why and where does Foodz sugar come from?

In Foodz recipes we do not add sugar, the sugars present in the nutritional table come naturally from the carbohydrates in the ingredients (types of carbohydrates considered as sugars). In Foodz PRO the part declared as sugar is part of the carbohydrates present in coconut milk.
Where does the saturated fat in Foodz come from? Is it harmful to health?

At Foodz we are proud to use a saturated fat that is considered by many to be good and natural, derived from coconut. Unlike saturated fat present in fried foods, coconut milk is related to the improvement of good cholesterol (HDL), the body's immune responses, in addition to participating in the production of hormones and the transport of fat-soluble vitamins (such as A, D , E and K).
Where are we from?

Foodz is Brazilian! We only sell in Brazil and we are located in São Paulo - SP.
What is the value of the product? Where I can buy?

Our boxes come with 12 bottles (12 meals) and cost R$324.90, or R$27 per meal.

We also have the Foodz bag. It comes with 1.44kg of Foodz powder and serves 16 meals of the same flavor. It comes with a dispenser for you to adjust the amount you want to consume 😄 Our Foodz bag is a more economical format and costs R$349, that is R$21.80 per meal.

It is worth remembering that all purchases over R$300 have free shipping throughout Brazil.

At the moment, the purchase is only made through our website www.foodz.store
Form of payment? Do you accept payment by food and meal card?

We accept payment via boleto banking, credit card, Pix and VR (check available flags).

We are already in contact with Sodexo, Ticket and Alelo. Sign up for our newsletter to find out when we accept these forms of payment.
How do I track my order? What is the cost of shipping and delivery time?

As soon as the order has been posted, you will receive an email containing the link and the postage code for tracking the delivery. If you do not receive it, you can contact us through our whatsapp (11) 3280 2980 and we will happy to inform you.

The freight and required delivery time vary according to your address and which carrier you will hire, but Foodz thinks of you, so shipping is free throughout Brazil from R$300.00.