Regular price
R$ 139,90 BRL
Regular price
Sale price
R$ 139,90 BRL
Unit price
per
Sale
Sold out
Foodz do Chef é uma refeição instantânea deliciosa e nutritiva, capaz de fornecer ao seu corpo todos os elementos essenciais para prosperar. Nossa fórmula cuidadosamente elaborada combina ingredientes naturais e de alta qualidade, oferecendo 25g de proteínas, fibras e um conjunto de 25 vitaminas indispensáveis.
Para preparar, basta adicionar água fervente, mexer bem e deixar repousar por 5 minutos com a tampa fechada. E pronto! Aproveite uma refeição rápida e saudável como se fosse um fast food, mas com benefícios incríveis para a sua saúde!
Pagamento A Vista, PIX, VR, Boleto, 3x sem juros no cartão
Frete Grátis A partir de R$200 em compra - todo Brasil
View full details
26 vitamins and minerals
Optimal amounts of all 26 essential vitamins and minerals.
Many Proteins
25 g of protein per meal. Only good things
Coconut milk
Coconut milk boosts your energy, as well as helping to promote satiety.
Carbohydrate Absorption
The combination and amounts that we have between carbohydrate, fiber and proteins make absorption slower in the organism.
oat fibers
Soluble and insoluble fiber, keeping you full and your digestive system healthy.
AND MUCH MORE...
✔ 25g of plant based protein
✔ 26 vitamins and minerals
✔ No ingredients of animal origin
✔ Biodegradable packaging
✔ Take it wherever you want
Everything to give your body everything it needs
Nutritious food is vital to a happy and healthy life, but we are all leading an increasingly busy life. What we need is a meal that is nutritionally complete and convenient. Foodz is all that and more!

We work hard to deliver a smoother and tastier Foodz recipe.

However, nutrition always comes first at Foodz, so don't worry, it's a protein, fiber, carbohydrate, fat, vitamin and mineral drink that contains 18% to 34% of all the nutrients you need throughout your day. .
2 FOODZ BAGS + 1 SHAKER = BRL 15.60 PER MEAL
Want to win a Foodz shaker and still restock your favorite Foodz by paying just R$15.60 per meal?

Too easy!

Just include the 2BAGS coupon before finalizing your order and you will receive a R$199 discount on the purchase of 2 Foodz Bags of your choice, 1 free Foodz shaker and free express shipping (Sedex or motoboy) throughout Brazil.
People are talking about Foodz:
FOODZ FOR ALL TIMES
At breakfast
To help you not skip breakfast and start your day without delay.
At work
For those days full of face-to-face or home office meetings.
Before training
To take advantage of your free time to exercise and not have to be hungry for it.
During studies
To have more time to focus on studies and not take 1 hour to make your meal.
100% Balanced and nutrient-rich
Are you part of the people who skip meals from time to time because of work, friends and or family? You will love Foodz!

Foodz is a complete meal, designed by nutritionists and food engineers, for those who don't have the time, opportunity or desire to cook. Prepared in less than 20 seconds, you can keep enjoying your day without stopping.

Our product is regulated within the standards of the World Health Organization, Health Surveillance and Anvisa.
What have inside?
Foodz contains everything your body needs to stay healthy. Our plant-based ingredients consist of a blend of pea and rice proteins, coconut milk, fiber and 26 vitamins and minerals.

Each meal provides the perfect amount of protein with a complete amino acid profile, an adequate amount of good fats (coconut milk), fiber to help your digestive system, and the combination we have in the Foodz formulation (carbohydrate, protein, fiber and fat) causes the carbohydrate to have a slower absorption and can help maintain your energy.
GOOD FOR YOU AND THE PLANET.
Plant Based is better for the planet
The food industry is responsible for 26% of all man-made greenhouse gas emissions.

Our meals are plant based and this means that the carbon footprint of Foodz products is lower.
Packaging for the planet
Did you know that our bottles are biodegradable and take up to 5 years to decompose even if they are discarded incorrectly? A normal pet bottle takes an average of 450 years.

We participate in the eureciclo environmental compensation program. The eurecycle seal shows that Foodz sends part of its post-consumer packaging to recycling.
Minimizing food waste
This minimization is done with your help!

On our side, we plan production very carefully so that we can make the most of all resources and use 100% of the raw materials without waste, and you also avoid waste when you drink your Foodz. In addition, our products have a 12-month shelf life while unopened, which means it takes longer for something to be discarded. 
Foodz Original - Bag
Regular price
R$ 379,00 BRL
Regular price
Sale price
R$ 379,00 BRL
Unit price
per
Sale
Sold out
View full details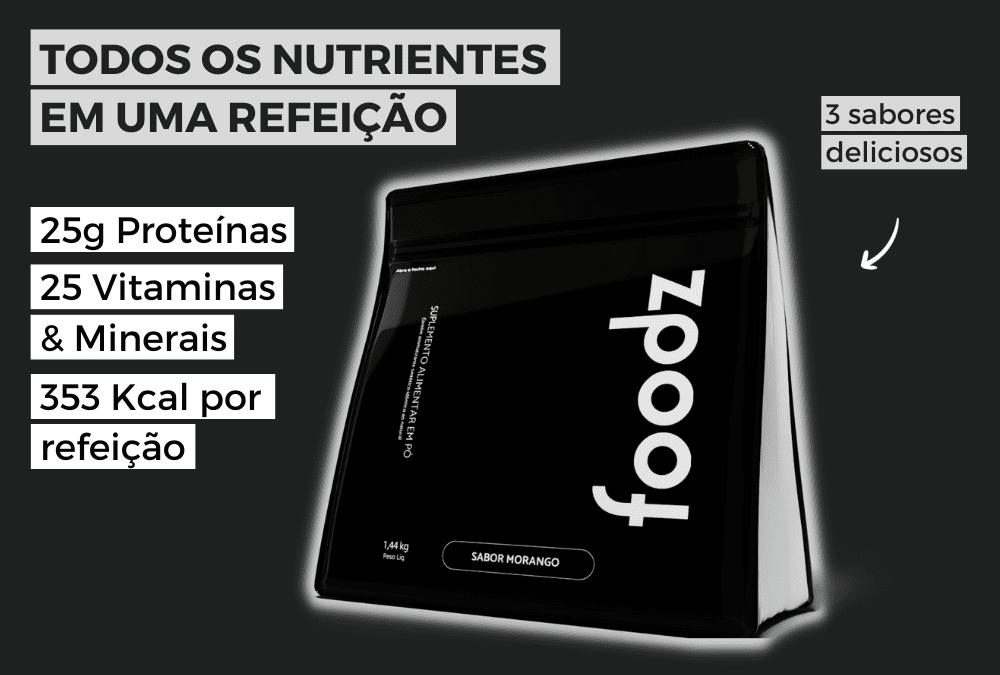 ALGUMA DÚVIDA QUE NÃO FOI RESPONDIDA AINDA?
What is Discovery Box and the bag? What flavors are available?

Our Discovery Box is made up of 6 bottles (2 of each flavor), which are equivalent to 6 meals, each of which is R$29.90. The value of the box is R$179.90. Currently, Foodz has three wonderful flavors: Chocolate 🍫, Cappuccino ☕️ and Strawberry 🍓.

The Bag is a larger portion of Foodz that is sent in an economic package of 1.76 kg, with a unique flavor of Foodz powder, comes with a doser and prepares up to 16 meals for R$21.80, and each one costs R$349, 00.
What meals can the bottle replace? Can I take more than 1 a day/can I live on it?

It can be used to replace any meal and be drunk at any time of the day. It has no contraindications to consume more than 1 per day. But it's worth remembering that our goal is to be an ideal and practical alternative for busy or lazy days, when you don't have the time or desire to cook, and that like the consumption of any food, it's good to pay attention to your daily recommendations to know the correct amount of consumption of each nutrient for you. We don't want to completely replace traditional food, because we know that well-made food with lots of love and care will always be better!
What is the shelf life and how to store the product? How long can it stay open and be consumed?

Both the bottle and the Foodz Bag are valid for 1 year while unopened. They must be stored in a cool, dry and out of direct sunlight.

After being opened and mixed with water, the Foodz bottle must be consumed immediately and the Foodz Bag must be stored with the same indications as when closed, but it is recommended that it be consumed within 30 days after being opened.
How many ml and how many calories is each bottle?

We recommend adding 400ml of cold water and each bottle has an average of 425 kcal. Our nutritional table is available at the link: https://www.foodz.store/pages/composicao-dos-nossos-produtos
Is it a shake?

Our product is made from plants and is not a shake, nor is it a protein drink. We're a healthy meal for your busy days, so Foodz is designed to provide 34% of all the nutrients you need throughout your day! Instead of a shake, we prefer to see Foodz as a complete meal in a bottle.
Does it make you lose weight? Pregnant can take?

Foodz is not intended to make you lose weight, but we have several testimonials from customers who managed to lose weight taking Foodz. Among many options for a quick and practical meal, Foodz is a healthy option that contains an average of 425kcal. Foodz is designed to provide 18% to 60% of all the nutrients you need throughout your day.

We draw attention to pregnant women, because of vitamin A, which in high doses can pose a risk to the fetus. In these cases, it is important to follow up with a nutrition professional to insert Foodz in your diet.
Where are we from?

Foodz is Brazilian! We only sell in Brazil and we are located in São Paulo - SP.
What is the value of the product? Where I can buy?

Our boxes come with 6 bottles (6 meals) and cost R$179.90, or R$29.90 per meal.

We also have the Foodz bag. It comes with 1.76kg of Foodz powder and serves 16 meals of the same flavor. It comes with a dispenser for you to adjust the amount you want to consume 😄 Our Foodz bag is a more economical format and costs R$349, that is R$21.80 per meal.

It is worth remembering that all purchases over R$200 have free shipping throughout Brazil.

At the moment, the purchase is only made through our website www.foodz.store
Form of payment? Do you accept payment by food and meal card?

We accept payment via boleto banking, credit card, Pix and VR (check available flags).

We are already in contact with Sodexo, Ticket and Alelo. Sign up for our newsletter to find out when we accept these forms of payment.
How do I track my order? What is the cost of shipping and delivery time?

As soon as the order has been posted, you will receive an email containing the link and the postage code for tracking the delivery. If you do not receive it, you can contact us through our whatsapp (11) 3280 2980 and we will happy to inform you.

The freight and required delivery time vary according to your address and which carrier you will hire, but Foodz thinks of you, so shipping is free throughout Brazil from R$200.00. For purchases over R$400.00, shipping is express (Sedex or motoboy).
Where does the saturated fat in Foodz come from? Is it harmful to health?

At Foodz we are proud to use a saturated fat that is considered by many to be good and natural, derived from coconut. Unlike saturated fat present in fried foods, coconut milk is related to the improvement of good cholesterol (HDL), the body's immune responses, in addition to participating in the production of hormones and the transport of fat-soluble vitamins (such as A, D , E and K).